Financial Highlights
Sales and Profit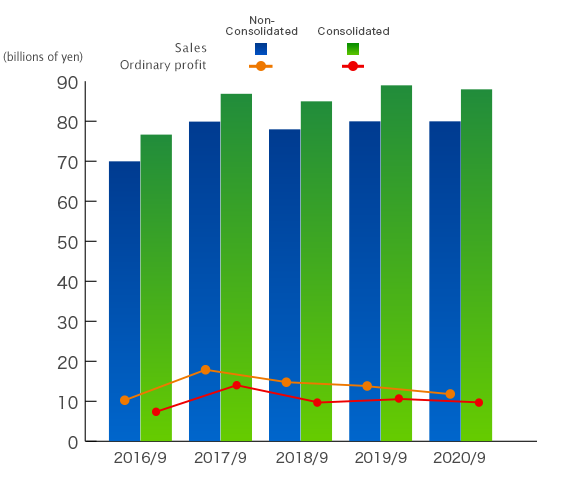 Consolidated States of Income (Excerpt)
(millions of yen)
| Item | 2016/9 | 2017/9 | 2018/9 | 2019/9 | 2020/9 |
| --- | --- | --- | --- | --- | --- |
| Sales | 76,722 | 86,902 | 85,209 | 89,171 | 88,954 |
| Operating profit | 7,424 | 14,731 | 10,631 | 12,347 | 12,333 |
| Ordinary profit | 7,483 | 14,577 | 10,284 | 12,433 | 10,721 |
| Net profit | 2,272 | 8,463 | 2,976 | 12,737 | 6,318 |
Non-Consolidated States of Income (Excerpt)
(millions of yen)
| Item | 2016/9 | 2017/9 | 2018/9 | 2019/9 | 2020/9 |
| --- | --- | --- | --- | --- | --- |
| Sales | 70,074 | 79,955 | 78,569 | 80,367 | 80,345 |
| Operating profit | 11,999 | 20,355 | 16,983 | 15,636 | 12,855 |
| Ordinary profit | 12,060 | 20,400 | 17,049 | 15,831 | 12,888 |
| Net profit | 1,788 | 8,595 | 2,569 | 12,224 | 6,571 |
Annual Business Summary (Oct 2019 to Sept 2020)
The Maruho Group is on the path toward realizing its Corporate Long-term Vision 2011 "Excellence in Dermatology". Following its third Mid-term Plan (Oct 2017 to Sept 2020), a new Fourth Mid-Term Plan (Oct 2020-September 2023) was formulated focusing on six strategic pillars. "Creation of products for the global market", "Products and Factories that continue to be selected", "Providing high quality information reflecting the needs of patients", "Building processes to deliver global product value", "Leveraging the strengths of the Maruho Group", "Expansion of business areas", "Management base that supports further growth".
Research and Development
In research and development activities, the Maruho Group conducts research and development to create unique products focusing on patient needs. By repeating interdisciplinary research discussions to gain a deeper understanding of medical needs to create products with medical significance from a patient's perspective. Maruho Shonan Innovation Lab, a new research base, was established in Shonan I-Park on November 15, 2019. It has accelerated innovation in research and development in the field of dermatology. Development progress is as follows.
Completed Phase III trials in Japan for M5210B as an agent for superficial skin infections.
Completed Phase III trials in Japan for M7040B for scalp eczema dermatitis.
Continued Phase III trials in Japan for M1210 for the correction of ingrown nails with the combined use of nail braces.
Continued Phase III development in Japan for M1220, as a treatment for papulopustular rosacea and facial erythema of rosacea
Continued Phase III development in Japan for M5220B, as a treatment for recurrent herpes simplex.
Completed Phase III trials in Japan for M5250, as a treatment for itching associated with atopic dermatitis and continued Phase III trials for children.
Continued Phase 3 development in Japan for M5250B, as a treatment for prurigo nodularis.
Continued Phase 3 development in Japan for M6060 as a treatment for axillary hyperhidrosis.
Manufacturing
In production activities, the Maruho Group is committed to fulfilling our mission and responsibility as a pharmaceutical company by ensuring a stable supply of high quality products. In addition, we aim to realize filling and packaging systems to meet a variety of product packaging needs for patients.
On March 19, 2020, Maruho completed the acquisition of shares of Roman Industry Co., Ltd. and made it a group company.
Sales and Marketing
In sales and marketing activities, based on the direction of information derived from the needs of patients and healthcare providers, Maruho will continue to establish information provision activities not only by conventional sales representatives, but also with systems using digital technologies.
On December 2, 2019, Chugai Pharmaceuitical Co., Ltd. completed transfer of rights to Maruho for Oxarol® Ointment 25μg/g and Oxarol® Lotion 25μg/g, therapeutic agents for keratosis including psoriasis vulgaris, and Marduox® Ointment, a therapeutic agent for psoriasis vulgaris.
On April 1, 2020, Maruho acquired marketing authorization the business of Device for Pincer Nails "Makizume Meister®" and established the Medical Device Department.
On September 16, 2020, KOSÉ Maruho Pharma launched "Carte HD", a high-performance skin care product created by combining the technologies and knowledge of Maruho and KOSÉ.
Overseas Business Activities
In overseas business activities, Maruho aims to maximize product value and expand its business in collaboration with affiliated companies, etc. while paying careful attention to novel coronavirus infection.
In the US, we are working with our affiliated company, Biofrontera AG, to further penetrate the product market.
In addition, Maruho Hatsujo Kogyo Co., Ltd. will aim to expand its spring business in Asia, develop a new medical device parts business in collaboration with Japan and the US, and expand its machinery business to non-pharmaceutical companies.
Prescription / Non-Prescription Drug Sales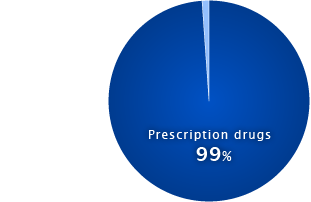 (2019/10-2020/9)
Prescription Drug Sales by Therapeutic Category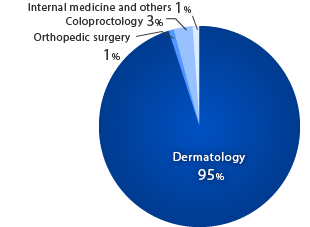 (2019/10-2020/9)
Prescription Drug Sales by Dosage Form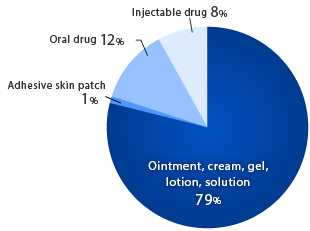 (2019/10-2020/9)